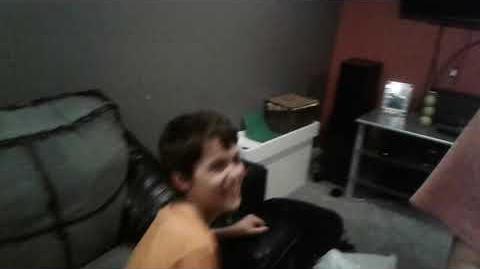 Constantiam is a semi-vanilla anarchy server for Minecraft: Java Edition. It currently runs on version 1.12.2, although it has been conformed that the server will soon support update 1.13. Constantiam was created on February 14, 2016 by PhantomCaptain. With absolutely no rules, Constantiam is very similar to another anarchy server, known as 2b2t. Most of the players hack and grief whenever they want, and profanity is often used. Upon joining the server, the player will find him/herself in a maze of cobblestone towers. Some are created in the shape of a half triangle, while others are nearly destroyed. The location in which you spawn varies, and players will occasionally find themselves below the surface. Due to the amount of destruction in the spawn area, there are many hazardous pits leading to a massive cave, reaching from the bedrock layer to the surface. Several withers have been spawned, and there are dozens of lava pools. Most players prefer leaving spawn as soon as they join, keeping away from the dangers.
External Links
Official Constantiam Website
Constantiam Weebly
Constantiam
Constantiam is a crooked, broken server with no rules. Players roam around hacking and swearing. Bullying is common, and the innocent victim TapeFace used to get cyberbullied there all the time by the following jerks: SirLeonidas(no longer a bully), ElMax(wants you to kys), MalariaSama(the rude "admin" who tells everyone to shut up), tha_snook(doesn't care about anyone), manbaby(tells everyone f word you) and many, many more. It is recommended you disable chat before joining, especially if you are sensitive or against swearing.
DO NOT JOIN CONSTANTIAM, IT IS A CROOKED, EVIL SERVER WITH BULLIES AND HACKERS TRYING TO RUIN YOUR LIVES!!! I'M TAPEFACE AND I'VE CREATED THE OFFICIAL CONSTANTIAM WIKI IN REVENGE!!! BULLIES SUCK AND SHOULD ME KILLED ON SIGHT, INCLUDING CYBERBULLIES---ESPECIALLY CYBERBULLIES!!! -TapeFace(changed name to Bills4Life7 to stay undercover)P.S. JEDING IS REALLY ELMAX USING A FAKE ACCOUNT!!!

There's a Fake Wiki?
A fake Constantiam Wiki was created by the player Jeding in early September of 2018. Claiming to be the real Constantiam Wiki, it is mainly filled with information about presidents, and many pages are corrupt with swear words. Very few pages even mention Constantiam, and none of the information is accurate. In the past, Jeding has continously vandalized the original Constantiam Wiki, and so TapeFace will occasionally have his revenge by ruining the fake Wiki. Jeding most likely created the fake Wiki to get noticed by other Constantiam players, but unfortunately TapeFace is the only player to constantly view his Wiki. It is believed that Jeding is actually ElMax, and he has been using a fake account all along.
The Fake Constantiam Wiki
Latest activity
Community content is available under
CC-BY-SA
unless otherwise noted.